Australian owned and operated business, Elphinstone Weighing Systems and Logging Trailers are proud to have been servicing the transport industry since 1976. Providing a comprehensive range of services from fitting & installation, to repairs and servicing, we pride ourselves on having expert knowledge of all our products, as well as design and manufacture of our own weighing systems. Learn More ►
Weighing Systems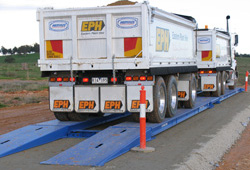 Elphinstone were the first to introduce on-vehicle weighing systems to Australia in 1976. Originally importing scale systems from the USA, we started building our own Electronics in 1988 and Loadcells in 2001. Over more than 37 years we have installed weighing systems to almost every type of transport vehicle in Australia and many specialised stationary applications.
With a strong engineering background, extensive manufacturing and service facilities and an indepth knowledge of the transport industry we can provide an accurate and reliable weighing system to suit your application and back it up into the future.
Trailers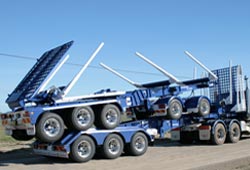 Elphinstone commenced building logging trailers in 1977 when they built their first folding pole trailer. In 1981 they built the first folding tri-axle trailer and in 1984 built the World's first self loading road train with 4 axle dog Introduced "Air transducers" for air suspensions.
Elphinstone continues to be at the forefront of innovative design with the Easysteer suspension which will increase payload and deck length and provide very accurate on-vehicle weighing.
Antarctic Equipment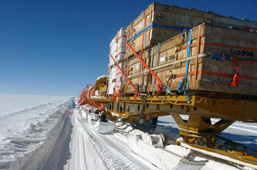 Elphinstone have been building equipment for Antarctica since 1985. With the experience of participating in 3 traverses we have first hand knowledge of the design requirements for the extreme Antarctic conditions.
Our Antarctic designed trailers, traverse and slave sleds are all proven performers in the harsh conditions.
The simple bolt together design of our base frames, walkways and stairways make them easy to assemble in the field.
Over the past four decades, Elphinstone has adapted with the changing needs of the transportation industry. Elphinstone's reputation is based on fine workmanship and upfront, no-nonsense, time and cost effective solutions. With combined company knowledge of more than 90 years, our staff are experts in installation, training and maintenance of our products and systems. Learn More ►
Parts and Services
At Elphinstone we pride ourselves on being able to supply the right part at the right time. With access to an extensive range of air and general freight companies, parts can normally be received from either our Tasmanian or Victorian warehouses within 24 — 48 hours. Larger items are sent general freight but we have a wide range of couriers to choose from to ensure quick delivery that will have your equipment working in the shortest possible time. We are happy to have you collect parts from either warehouse or arrange your own freight if that is more convenient.
Our team has extensive knowledge of our parts and is always on hand to provide over the phone trouble shooting or diagnostics. Call them on 1800 030 019 from anywhere in Australia for assistance.
Spare Parts
Service and Installation
Quality Control
Product Development
Load Binder Winches
Turntable Slider
Mounting Hardware