Side Loader
Elphinstone Easyweigh loadcells are mounted to load bearing points on the chassis to give accurate readings of the weight of the body. This helps to stay within legal load limits by easy monitoring of the payload as it increases during collection runs.

Proven Performance
Elphinstone have been designing and installing on-vehicle weighing systems for over 20 years. We have incorporated the latest technology to assure you of dependable service from our systems.
Features
Protect yourself against overload fines and accident liability
Weigh entire payload
Accuracy guaranteed ± 1%
Load to the maximum payload every load
Cab mounted display external display options
Simple installation during manufacture
Mounting kits designed for easy fitting
Proven reliability in the waste collection industry
Rugged loadcell design proven over 38 years in the logging industry
Simple electronics
Designed and built in Australia
Self diagnostics for easy troubleshooting
Excellent backup and after sales service
Lower maintenance costs
Options
Cab mounted printer
DataLogger
Direct communication with onboard computers
Easyweigh® radio remote readout
Scoreboard display
Available Options For Your Application
Elphinstone EasyView

L5500 Printer

Remote Display

Limit Lights
Proven under Australian conditions for over 20 years!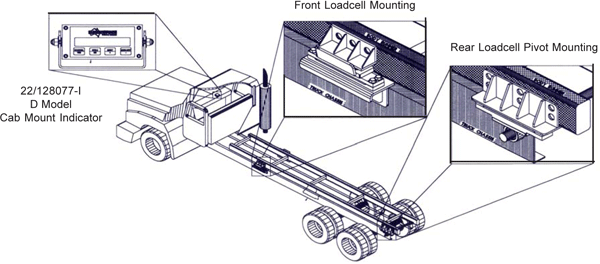 Specifications
Capacity

6 Point — 27,000kg
4 Point — 18,000 kg

Power

12vdc (24vdc with power reducer)

Mounting

Flexible mounting design to reduce stress on Truck chassis and Compactor Body