Features
Simple and fast load/unload (90 seconds)
Light tare weight — from 7,900kg
Easyweigh™ on-board weighing system as standard
Frames are fully bolted together
19 metre Mini B-Double to 33.5m Multi Bay B-Triple
Long Load Mover — 19m single load length
Multiple log length options
Proven design over millions of kilometres
Standard options suit all models
Trailers are interchangeable
Can be towed by standard Highway Prime Mover
LED lighting as standard
Easyloader™ is unique in that it covers all applications from General Access to B-Triple routes — 32 tonne to 68 tonne payloads.
---
Configurations
---
Components are the same in most models. Only the trailer frames change in length. This means spare parts are the same for all models.
With bolt-on options, Easyloader™ can be adapted and changed to suit most applications of log transport
All of the above configurations are also available in a standard flat-tow option.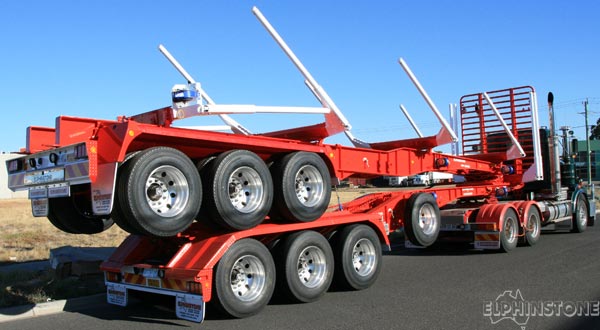 Options Available
R22.5" or 19.5" Wheels

Cab Guard — Trailer Mounted

Rear Guard — bolt on, rubber mounted

Manual Winch / Load Binder

Auto Tensioner (Air) / Load Binder

Axle lift — Extra weight on drive for improved traction

Traction Improver

Slider/turntable

Wind down landing legs

Rear push bar

Additional bolsters

Sliding bolsters — Manual & Hydraulic

Hydraulic siding bolster control

Spare Wheel Carrier

Dolly bolsters, fold up. Aluminium or Steel

Suspension raise/lower valves

Chain/Tool Box — Intergrated Axe and Twitch holders

With simple loading and unloading, the Easyloader™ is being loaded with logs whilst conventional trailers are still being set up at the landing.
Easyloader™ is a very low cost 'whole of life' unit.