A-frame Tri-axle Jinker
Proven over many years as a versatile and efficient way to cart logs, the Elphinstone A-frame tri-axle jinker is no exception.

The A-frame built by Elphinstone is a low maintenance trailer with a lighter tare weight. It features no pole slots or pins yet resetting the pole is an easy adjustment.
Elphinstone's unique design pole allows the pole to not only slide but swivel as well causing less stress on the A-frame, front section pole and pole hitch.
Fold up mudflaps on rear have replaceable nylon bushes in hinge. Stretch mudguards and the fully covered suspension provides superior protection to cables, air lines and brake parts making cleaning easier with less road spray and mud on logs.
All truck equipment will fit any truck and can be changed from truck to truck without modifications. Accurate on-board weighing means full payloads every load.
Options
Choice of 2 models of Quick Release front bolster
R22.5"or 19.5" Wheels
Full Mudguards – Light or Heavy Duty
Air or Spring Suspension
Easyweigh Radio Remote Scale Indicator
Trailer can be run as rear trailer on Easyloader as B-double or B-Triple

---
ElphLink
An A-frame Trailer with a Difference
Tri-Axle Jinker with a Single Axle 19.5" Dolly.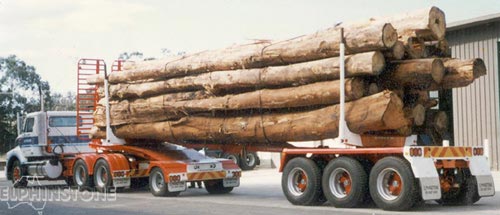 The ElphLink is a log jinker designed to improve log transport productivity. This model has been in operation since 1997.
The unit is ideal for carrying long logs and runs as a general access vehicle as it is under 19m long. The unit runs at 50,000kg or 54,500kg mass management route gross load, giving up to 5000kg increase in payload over a conventional 6 axle rig.
Loading of the unit when empty is simply done by using a standard loading ramp or bank of earth (no hydraulics or winches are required). The rear trailer is folded onto the ElphLink trailer then the slider on the truck is unlocked. By simply reversing, the ElphLink slides up onto the chassis of the truck and the slider locks it there.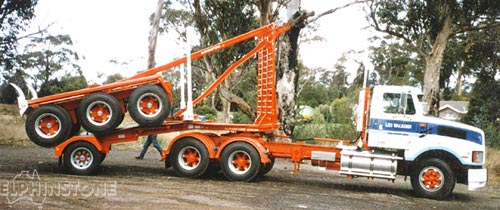 Unloading is as simple as a normal jinker. Apply the trailer brakes, unlock the slide, move the truck forward and the ElphLink slides off and is ready to be loaded with logs.
4 heavy duty (16,600kg) loadcells feature in the on-vehicle weighing system.
Options