Single Point Fold-A-Skel™, a proven performer since 1985.
Simple, lighter tare weight, single point suspension and easier manual folding (as easy as a Jinker) are some of the features of the Elphinstone Single Point Fold-A-Skel™.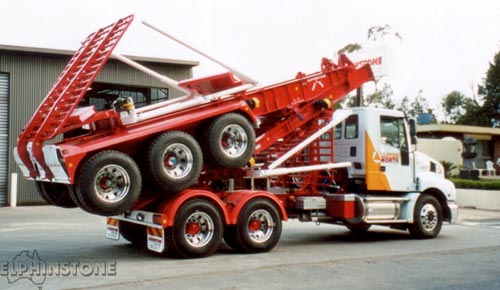 With simpler and easier folding and unfolding, all that is needed is a small ramp or bank of dirt. The turntable slider enables weight transfer, and replaceable nylon slides ensures easier vehicle changeover.
Features
One trailer fits any truck with required wheel base, and will interchange from truck to truck without modifications
Multi-fit bolsters with round high tensile pegs
Lightweight stretch mudguards
Frames are fully bolted together
Scales standard – proven loadcells and consistent accuracy
Proven design over millions of kilometres
Low centre of gravity for good stability in all terrains
Ability to cart a wide variety of load lengths
Standard Quick Release – Truck can tow any standard trailers
Elphinstone offer exceptional service and spare parts backup.
Loading Sequence Gallery
Hydraulic Fold-A-Skel™
All the features and advantages of the Single Point Fold-A-Skel™ but with the added advantage of hydraulics. Single one action folding with simple single switch operation.
All controls and hydraulic system fitted in truck are the same as for Easyloader™ making parts and back up service a simple 'one stop shop'.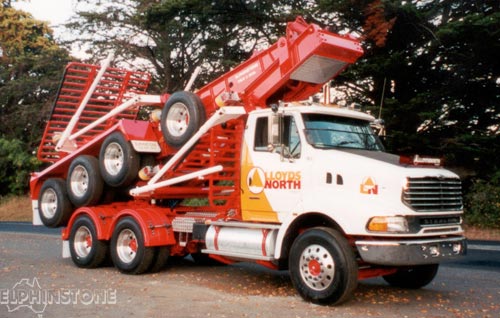 Options Available for Fold-A-Skel™
Front and Rear Guards – Bolt On, Rubber Mounted
Manual or Auto-tension winches
Slider/turntable
Rear push bar
R22.5" or 19.5" Wheels
Additional bolsters
Sliding bolsters