This unit measures air pressure from both sides of the suspension (giving faster response times) and converts this information into a digital weight display in cabin. Automatically accounts for changes in atmospheric conditions and temperature.
Features
Low Cost Weighing
Simple Installation
Atmospherically Adjusted
Fully Sealed Unit
Push in Air Fittings
Suit Metric or Imperial Airlines
Robust in Design
High Accuracy
Compatibility
The EasyAir transducer system is compatible with both of Elphinstone's indicator systems (Easyweigh® Radio Remote and D Model Cab Mount indicator systems). EasyAir is also compatible with most other brands of electronics.
Proven Performance
Elphinstone have been designing and installing on-vehicle weighing systems since 1976. We have incorporated the latest technology to assure you of dependable service from our systems.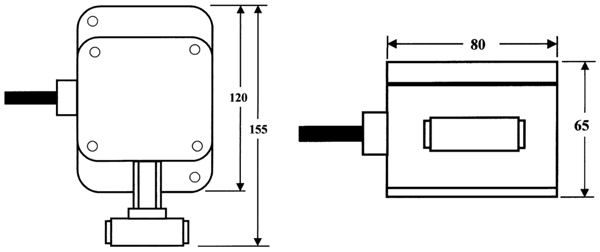 Specifications
Weight

960 grams (34 oz)

Connection

Military Connector

Case

Aluminium Case – Powdercoated

Mounting Bracket

Aluminium

Pressure Range

4psi — 150psi

Accuracy

Transducer – ± 0.5%
Operational – ± 1% (See points below)
Accuracy when installed in air suspension is dependent on the following:
Suspension assembled correctly. Bushes tensioned at correct ride height
Ride height valve should be fast acting and set at correct height
Have NO air leaks in trailer
Ensure full air pressure in trailer, this means full tanks, not just enough to release brakes
Have trailer brakes off whilst loading/reading weights
Stand trailer on level and flat ground whilst reading weights
Allow pressure to steady in suspension after adding more load or moving trailer
Ensure a clean air system
Driver awareness to these points gives better operational accuracy