Elphinstone Engineering also trading as Elphinstone Weighing Systems is proud to have been servicing the transport industry since 1976. We pioneered the installation of on-vehicle weighing systems in Australia in 1976 and have revolutionised the logging transport industry with innovative design and technology. We provide a comprehensive range of services including design, manufacture and installation, to repairs and servicing with our extensive facitities and staff. Our skills also involve extensive knowledge of design and manufacture of transport equipment and accessories for the Antarctic research and supply industry.
Our Company
Since 1976, Elphinstone on-vehicle scales have been fitted to almost every type of transport vehicle used in Australia, and have found particular application in the agricultural, timber, mining, transport and waste industries. Applications which have been fitted with on-board scale systems include Log Trucks, Tippers, Fixed Body Trucks, Semi Trailers, Bulk Feed Tankers, Explosive Batching Trucks, Feed Wagons, Garbage Compactors, Roll On/Off Bin Trucks and Stationary Installations including semi-portable Weighbridges, silos and tanks.
Elphinstone Engineering built their first logging trailer in 1977 and since then have revolutionised the logging transport industry with many unique designs and efficiency gains for the industry. While most development has been with logging transport there have been some specialised trailers built for carrying zinc and special trailers for Antartica.
Elphinstone Weighing Systems and Logging Trailers are designed and manufactured in Australia, and sold internationally. Our world-wide reputation as a leading supplier of scale systems and logging trailers is based on many factors:
Effective Design
Accuracy
Reliability
Durability
Simplification of Operation
Quality After-Sales Service
Suitability for Fleet Operations
For more information and a detailed history of the company, view our Timeline for specific developments.

Our People
Graeme Elphinstone
Managing Director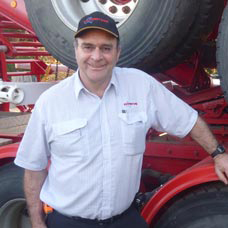 Graeme is a farmer and plant operator by trade, growing up in Highclere in Northern Tasmania and moving to Triabunna in 1971 where he worked for McCulloch Logging as a log feller. After 13 months he became a logging inspector with Tasmanian Pulp and Forrest Holdings. Whilst working as a feller, Graeme repaired chainsaws and this sideline blossomed into the Elphinstone Saw Centre in 1972.
In 1976 he went into full time small engine sales and service and started importing on-vehicle scales from the USA with his brother Dale. Whilst retro-fitting these and from his days of doing repairs on logging trailers he could see the need for some improvements.
In 1977 Graeme designed and built the first Elphinstone log jinker and since then has been designing and manufacturing log trailers, log truck equipment, specialised transport equipment and components for on-vehicle weighing systems.
Grant Elphinstone
Managing Director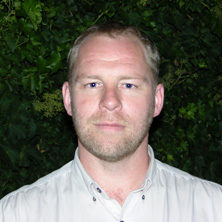 Grant grew up within the business and on leaving school in 1986 did his apprenticeship as a boilermaker welder. During this time Grant started doing sales, service and installation of on-vehicle weighing systems all over Australia.
In 1996 Grant moved to Melbourne to continue the weighing system side of the business. Working from home and on site from the back of the ute Grant leased a temporary building close to his house in 1999. This building was small with limited access but acted as a stepping stone as the Victorian business grew.
In March 2004, Grant and Graeme purchased the current premises in Somerville Rd, Sunshine West. This large modern workshop is just off the Western Ring Road and offers full drive through B-Double access. In 2007 the ajoining premises was purchased, and in 2013 a third, giving a total of 2,430 square metres of wharehouse and workshop space enabling us to do all installations and service work in-house. The building includes a large office and store for the extensive stock of spare parts for our weighing systems and logging trailers.
Company History / Timeline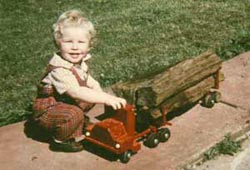 Elphinstone had humble beginnings and a successful growth through innovation and hard work. Investigate our historic events and adventures over a near-40 year campaign.
Gallery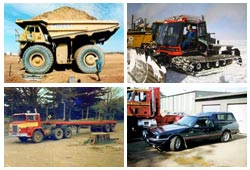 We are very proud of all of our products and take pride in keeping photographs from years gone by to show where we've been and to document important discoveries along our path.
Videos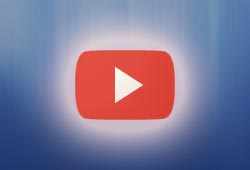 These videos help show exactly how our products work and why we are a leading business across a range of multiple applications such as: logging trailers; weighing systems; antarctic equipment, and other accessories
Our Clients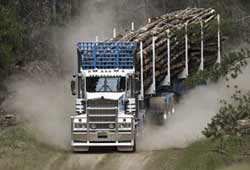 Elphinstone service a range of clients across a number of different applications. These are some of the clients we are proud to have built partnerships with over the years.
Locations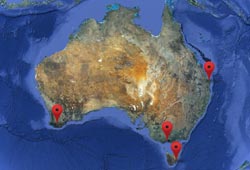 Elphinstone have offices all around Australia in a location to suit you, where ever you may be. Contact us if you'd like to speak to one of our reps face to face, or to organise a tour of our Victoria or Tasmanian facilities.